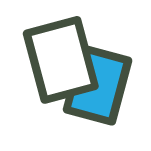 For many, preparing annual accounts are an unnecessary evil and in many ways a means to an end in terms of calculating your personal or corporate tax liability but sadly it is a process which all businesses, irrespective of size, must adhere to in order to meet the filing requirement set out by Companies House and HM Revenue and Customs.
At Accounting Solutions, we adopt a different approach and whilst we appreciate that there are statutory filing requirements which must be met, we seek to prepare and make good use of the figures. Explaining the accounts in "plain English" and making it relevant to your day to day working life enables you to be forearmed in making timely, informed financial decisions.
We appreciate that not all clients are book keepers, nor do they want to be so we welcome records in any form from a carrier bag or receipts to a balanced and reconciled accounts package. We even give you recommendations after the work is done on how improvements can be made in the year ahead.
We believe the key is in the communication and with this in mind, we make the effort each year to sit and talk through the numbers in as much detail as you like, ensuring you understand the accounts and what they mean. We're not expecting you to become Accountants, just to draw relevant information which will aid your business moving forward.
Contact us to see how we can help with your accounts.